Safety en route for lorry and bus
Important information and useful tips for your journey by lorry or bus.
Safe driving tips for HGV drivers
You must comply with the prescribed rest periods.
Observe the lorry overtaking ban.
Find out about lorry driving bans.
Make sure you are well equipped in the winter.
As a rule, the stopping distance of a lorry is 30 percent longer than for a car. It is therefore particularly important to observe the safety distance to the vehicle in front, which should never be less than 50 metres.
Parking information system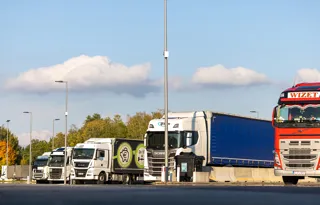 Where can I take my breaks? Which car park is nearby? Where are there free parking spaces? The lorry parking information system helps (professional) drivers find a free parking space. Around the cities of Vienna and Linz, there is an information system in place that provides live information on the occupancy rate of the car parks.
Lorry parking information system