Effective traffic management across nine centres
ASFINAG has a well-developed network of motorways and expressways. Our traffic management team monitors it 24 hours a day, 365 days a year - so that you arrive safely. Accidents, construction sites or wrong-way drivers: we see it all.
Two control levels for optimum safety
To ensure that we can react quickly to incidents in our network, we have nine traffic management centres (VMZ):
The national centre in Vienna-Inzersdorf
Eight other centres in the federal provinces
The centre operators are the central points of contact for communication and coordination within ASFINAG and also with the local emergency teams.
The VMZ in Vienna Inzersdorf heads the regional branches. This is where:
we constantly monitor our motorway network;
we inform you about incidents such as breakdowns or accidents;
we recommend major diversions, such as when there is a natural disaster;
we monitor trans-regional special and heavy transports.
The centres in the federal provinces are responsible for regional traffic management. They monitor and maintain tunnels and cross-country routes.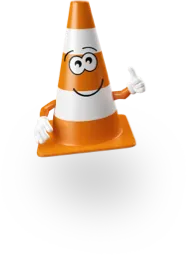 Our goal
To remove road obstructions as quickly as possible – for the highest level of safety.
ASFINAG incident management
Fast responses to unexpected incidents
When it comes to safety, we have set ourselves very high standards. We do everything we can to prevent accidents. If something does happen, we and our partners guarantee that everything runs smoothly.
When it comes to traffic management, we rely on the latest technology and safety equipment. We monitor the traffic with more than 6,000 cameras along the route network. Each camera can be controlled separately. Millions of data points constantly deliver information from the road to the VMZ, which allows us to monitor the tunnel and road infrastructure quickly and efficiently.
Data protection is important to us! Generally speaking, live images from the motorways are not stored, with the following exceptions: at rest areas, videos are stored for up to 48 hours, and in tunnels, for up to 72 hours.